When the phone rings at pedalcar.com the caller is often asking for a specific part for their pedal car. While this may seem like a simple phone conversation, it can actually become quite difficult. Because of the variety of different pedal cars that were only the market over the past several decades, it's important to determine the type of pedal car you have before we can give you any advice about a replacement pedal car part. Thankfully the majority of calls that we receive have to do with pedal cars from two manufacturers, Murray and AMF. In this blog we'll go into a little history of the two companies and give you a few tips when determining the type of pedal car that you have.
Brief History of Murray Ohio Manufacturing Company
The Murray Ohio Manufacturing Company was founded in 1910 by J.W. Murray. The company operated out of Detroit, Michigan until 1919 when the company was relocated to Cleveland, Ohio. The Murray brand name was actually not used until the conclusion of WWII. J.W. Murray was a well-known artist and designer who was wildly interested in industrial design and fine art. You can see his attention to detail in some of his Murray pedal car designs.
Brief History of AMF
AMF was founded as American Machine and Foundry in 1900 by Rufus L. Patterson. While the company began by making cigarette, stitching and baking machines, they soon expanded into other lines of products. Some of their more popular items included bowling equipment, bicycles, toys, pedal cars and all sorts of other consumer goods.
How to Identify The Manufacturer of My Pedal Car?
Now that we've gotten a bit of history out of the way about AMF and Murray, it's time to show you how we can tell the difference between these two manufacturers. Many times hubcaps on pedal cars are long gone by the time we get a call to help identify a pedal car.
The easiest way to tell whether you have an AMF or Murray pedal car is to look at the wheels. Murray wheels are easily identifiable because they have 6 tabs, while AMF used wheels that had only 3 slots. Whenever a customer calls in we ask them to take a look at their pedal car wheels and we're usually able to identify the manufacturer.
Below are pictures of an AMF & Murray wheel and hubcap.
AMF Wheel and Hubcap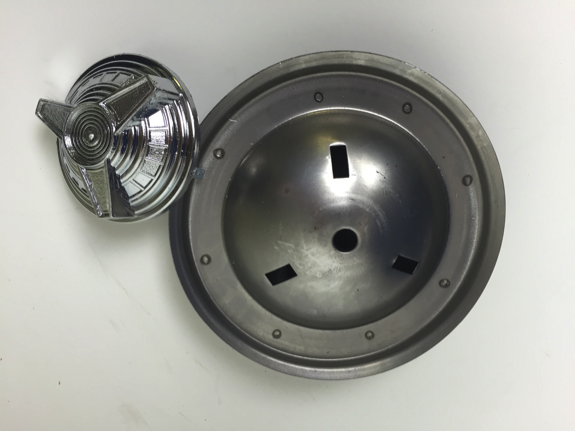 Murray Wheel and Hubcap
Still Have Questions About Your Pedal Car?
If you're still unable to determine the manufacturer or your pedal car or you're interested in pedal car parts, don't hesitate to give us a call today at 248-853-0215 or send us an email at info@pedalcar.com. We look forward to hearing from you soon.