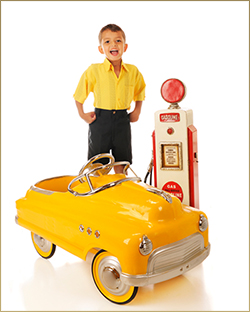 In today's fast placed, technologically driven world it seems like kids are constantly bombarded with tablets, smartphones and other computer devices that promote a largely sedentary lifestyle. Gone are the days where kids spent hour after hour outside enjoying the fresh air, while getting exercise.
If you're looking for a way to get your kids off the couch and into the great outdoors, a pedal car may just be the perfect ride on toy for your children. There are a number of reasons why you may want to purchase a pedal car for your kids and we'll go through just a few here in this blog.
Reasons to Buy a Pedal Car for Your Kids
Pedal cars encourage exercise – As mentioned above, kids today do not get nearly as much exercise as children from previous generations. Using pedal cars your kids will use their own strength to get from point A to point B and will likely have a ton of fun in the process.
Encourage a child's imagination – Pedal cars offer a unique mechanism to let your children's imaginations run wild. Maybe your child has a train themed pedal car and imagines that he or she is a conductor heading out across the open country or maybe your child has a tractor themed pedal car and can imagine tilling the fields. Whatever type of pedal car you choose your child will amaze you with the stories that he or she can come up with related to their newfound pedal car adventures.
Share in your child's hobby – If your child really begins to enjoy pedal cars the two of you could possibly purchase a pedal car kit and build a car together. This togetherness is something that can't be replaced and will be something that your child will likely look back upon fondly as they grow older.
Pedal cars may grow in value – There is a small niche of people around the world that collect vintage pedal cars. If your child's pedal car is well taken care of it could possibly be worth something in the years to come. While there is no guarantee, it's definitely something to think about when you're spending time maintaining your child's pedal car.
Have Questions About Purchasing a Pedal Car for Your Kids?
If you have any questions about purchasing a pedal car for your kids feel free to pick up the phone and give us a call today at (248) 853-0215. We've been designing and building pedal cars for decades and even have a large selection of vintage pedal cars for sale as well.